Eleanor Selfridge-Field and Edmund Correia, Jr.
© 1994 Center for Computer Assisted Research in the Humanities
Reproduced by the IEEE Technical Committee on Computer Generated Music by permission
---
Category 1. Duration and Alignment

Type 1. Correct alignment of ratios.
It is assumed that observation of meter within each part makes coordination of parts in a score a straightforward matter. This is not necessarily the case.
One complicating factor often occurs in the company of others. In Beethoven's "Harp" Quartet (Ex. #1), the following rhythmic juxtapositions occur between parts:
2:3 (Bars 12 and 13)
3:4 (Bars 5 and 6)
3:8 (Bar 3)
These are complicated by beamed grace notes (Bars 5 and 6) and slurs.

In Mahler's Das Lied von der Erde (Ex. #2), a three-tiered rhythmic juxtaposition, e.g. 4:5:6, occurs in Bar 13.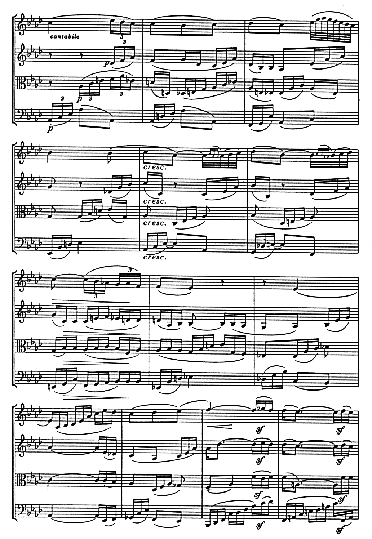 Ex. #1. Beethoven "Harp" Quartet: rhythmic juxtapositions. This illustration was produced by Amadeus Music Software G.m.b.H. and was previously shown in the Directory of Computer Assisted Research in Musicology 4 (1988), 55.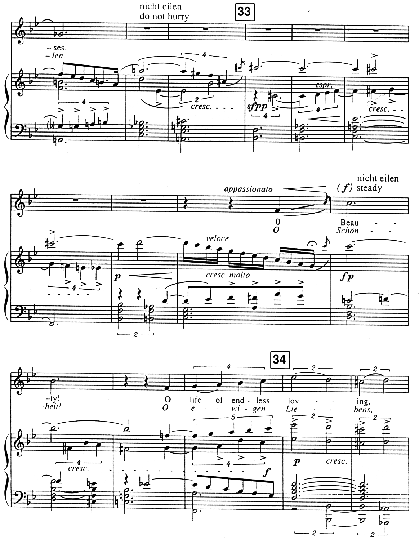 Ex. #2. Mahler: Das Lied von der Erde, "Der Abschied." This illustration was prepared by Tim Crawford and John Gibson using beta-test versions of Don Byrd's program Nightingale, which is now available from Temporal Acuity Products, Inc. It appeared in Computing in Musicology 6 (1991), 133.
---
[ Index | Previous Paragraph | Next Paragraph ]