Eleanor Selfridge-Field and Edmund Correia, Jr.
© 1994 Center for Computer Assisted Research in the Humanities
Reproduced by the IEEE Technical Committee on Computer Generated Music by permission
---
Category 6. Recent Music

Type 1. Beam modifications.
Type 1. Beam modifications.In Ex. #37 wedged beams and beams without stems are both required.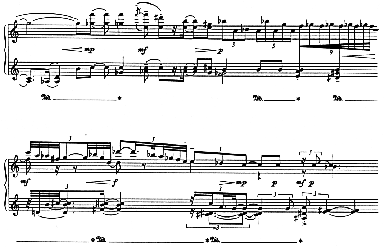 1992 by Robert Basart. Used by permission.
Ex. #37. Wedged and stemless beams in Robert Basart's "Blue Again" from Slow Pictures [Berkeley, Fallen Leaf Press, 1992]. This example was produced by Peter Simcich using SCORE. It appeared in Computing in Musicology 9 (1994), 179.
---
[ Index | Previous Paragraph | Next Paragraph ]